Cohousing in the UK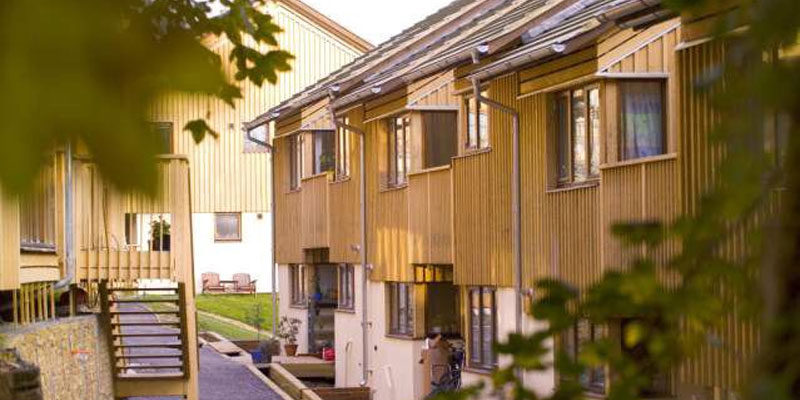 Cohousing started to develop in the UK at the end of the 1990s. The movement has gradually built up momentum and there are now 19 built cohousing communities. A further 60+ cohousing groups are developing projects and new groups are forming all the time.
Cohousing communities in the UK currently range in size from around 10 households to around 40 households. Most communities are mixed communities with single people, couples and families but some are specifically for people over 50 and there is increasing interest in communities of common interest such as women only or LGBT groups.
The communities themselves range from new developments built to modern eco standards to conversions of everything from farms to former hospital buildings and are in urban, rural and semi-rural locations. Some have very large land holdings as part of the community, others very little. Most of the initial Cohousing Projects were self funded by the residents as there was no public funding available for cohousing. Increasingly, communities are now working in partnership with other agencies to co-create their Cohousing using using a range of legal and financial structures to enable them to offer different tenure types including rental and mutual homeownership options.
UK Cohousing has recently been working with the DCLG in England, to ensure that the new Community Housing Fund is available to Cohousing groups.
In Wales, UK Cohousing has contributed to the Welsh Government Expert Group on housing an ageing population which has recognised Cohousing as important in widening choice of housing options and recommends ensuring that there is financial and professional support and advice available to facilitate community led housing solutions.
A Strategy for Housing Scotland's Older People 2012-2021, recognises Cohousing by the Scottish Government and states they are keen to encourage the development of new and innovative models of housing that enable older people to maintain their independence in the community.
Northern Ireland has an active intergenerational Cohousing group, who are promoting Cohousing in the country.
UKCN has member groups in all Countries within the UK. Given the diversity of laws and governments within the UK we have enabled specific forums to be set up for Wales, Scotland, Northern Ireland and England within our membership area My UKCN.
The UK Cohousing leaflet gives a comprehensive overview of cohousing: what it is, how to do it, where to see it.