Hopefully you will have seen some of the brilliant television and media coverage.  We are ecstatically pleased that the OWCH (Older Women's Cohousing) group has moved into New Ground Cohousing, its new home in High Barnet. This is the first senior cohousing community in the UK and its members have been planning this development for many years, pioneering the idea of a supportive community for women in later life. Together they have formed a self-managing cohousing community, based on the shared values of neighbourliness and mutual support.
In total there are 26 women, aged 50-87, who have moved in to the 25 lovely new-build flats, designed by Pollard Thomas Edwards, in Union Street. The award winning scheme has been forward funded and developed by Hanover Housing Association, with support from the Tudor Trust and Housing for Women.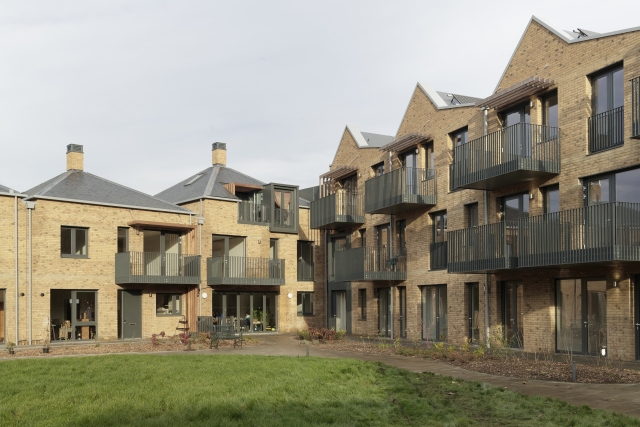 OWCH's brief was very clear: they wanted their own sustainable homes, with shared facilities that create a sense of community. The collaborative design process that PTE facilitated was a learning exercise in understanding the realities of planning and building. The architects worked with the group to evolve a T-shaped layout focussed around shared facilities and communal gardens that gave every home its own outlook and sunlight.  The shared spaces at the entry are the hub of the community. The sociable common house meeting room, kitchen and dining areas are complemented by other practical amenities like a laundry and drying space arranged around the mews courtyard, and a guest room with balcony that doubles as a quieter meeting space
A mix of home-owners and social renters, they are a fabulous demonstration project that will inspire and encourage other older people to plan their later lives by developing similar initiatives. Shirley Meredeen, 84, who co-founded OWCH, said: "It's never been done before, and we will be completely running it ourselves. We are making history, and we are extremely proud. We are not going to be a little ghetto of older people, we want to be good neighbours."
Congratulations everyone! Hearing everyone tell their stories is an amazingly powerful message and it seems that many more of the UK general public now know what cohousing is!
Photos: Tim Crocker