Helen Jarvis, (CoHUT and Newcastle University) on the National Conference of the US Cohousing Association in Portland, Oregon in June 2019:
The theme of the National Cohousing Conference 2019 was Community for the Health of it. Health can be interpreted in multiple ways, including ageing well in community to combat loneliness and sharing low impact living for a healthy planet. These social-ecological concerns resonate with my conflicted feelings about flying long-haul in a climate emergency. I rarely participate in overseas conferences unless by train or video-link. Yet, with immediate family scattered across three continents, I struggle with forsaking love miles.
My widowed mum lives in rural small-town Corvallis, 100km south of the famously liveable city of Portland, Oregon. She lives in a home my dad built when he had active retirement in mind, situated on top of a hill, several miles from all useful amenities. I viewed the National Conference serendipitously as time with mum who is lonely and lacking mobility. I mention these details because if cohousing had been an option, I'm confident mum would enjoy better quality of life: mutual care and spontaneous acts of kindness are written into the DNA of shared spaces and social responsibility. The personal is political! This explains why my conference contributions focused on the social architectures of cohousing interventions on loneliness.
More than two decades since the Cohousing Association of the United States (CohoUS) held its first biennial conference, this was undoubtedly the largest gathering yet with 580 participants over two days (June 1-2). Alongside pre-conference intensives, 200 people took bus tours focusing on different themes illustrated by selected community open houses. There were tracks for those new to cohousing, in a forming community, living in cohousing and for mature communities (seeking, building, sustaining)
Portland was the ideal host city boasting 12 of the 168 cohousing communities recognised by Coho US (170 more forming). This cluster includes considerable variety from early adoption (Trillium Hollow and Cascadia Commons), efforts to promote multigenerational diversity (Daybreak) and new dense urban forms that variously emphasise senior living (PDX Commons) and affordability (Mason Street Townhouses). This location also highlighted the many ways that cohousing intersects with grassroots action to reimagine sustainable commons. I witnessed intersection paintings, permaculture installations, support for houseless communities and natural building projects for the annual Village Building Convergence  (May 31st – June 9th).
I took the 'affordable cohousing' bus tour organised by Neil Planchon, with inspirational commentary from Mark Lakeman. Mark is co-founder of the sustainable public places non-profit The City Repair Project, and principal of the community architecture and planning firm Communitecture. He conceived the first city-sanctioned 'tiny house' project Dignity Village in 1999. The tour provided access to four very different cohousing communities: Peninsula Park Commons, Woolsey Corner, Mason Street Townhouses and Cully Grove (including a satellite scheme under construction in partnership with non-profit Proud Ground using a CLT model to deliver a proportion of permanently affordable homes.) With the exception of non-profit partnerships, affordability tends to be limited to cost reductions from smaller homes and novel or retrofitted materials and construction.
One of several inspiring conference keynotes came from Grace Kim, co-chair of the 2019 Cohousing Conference and a founding principal of Schemata Workshop. Grace is highly regarded for common house design ideas that foster and support communitas (the spirit of community) at the heart of every cohousing community. Author Courtney Martin drew from personal experience living in cohousing with her family to highlight well-being benefits for children and parents. The conference was not all about celebrating success and feeling good: panel debates and intensives were not shy to challenge slow progress on accessibility, affordability, diversity and inclusion.
What did I learn that is usefully shared for the future maintenance of UKCN? I have always admired the commitment of CohoUS to having a productive research arm: Cohousing Research Network (CRN) is a special project, organised collaboratively by a steering group of academic researchers and professionals with concern to generate quantitative, qualitative and longitudinal evidence of cohousing impact. I was welcomed as an honorary member and gifted a T Shirt with their new logo!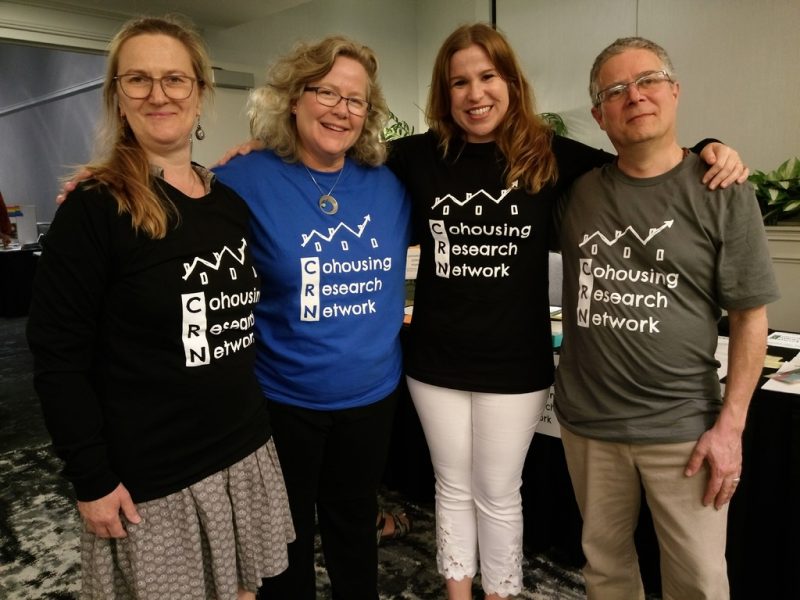 We agreed that if we combined effective UKCN lobbying (MHCLG, Minister for Loneliness, Community Housing Fund) with CRN commitment to sector-specific research, we could imagine increased credibility and influence each association. I was also struck by the capacity of CohoUS to raise revenue funding to support paid organisers through their Evergreen Neighbors campaign: "Evergreen meaning ongoing monthly support from those who value the ways cohousing makes the world a better place; Neighbor because we are all neighbors in the cohousing movement".
For me, this conference reinforced the value gained from linking local and national cohousing innovations and exemplar communities to a larger social movement of passionate pioneers. Enduring links between UKCN and CohoUS were personally apparent in the easy way that I resumed a conversation with Chuck Durrett that began in Stockholm in 2010 at the International Collaborative Housing Conference organised by Dick Urban Vestbro. Dick sadly passed away very recently, on16th June. Since then, I have been reflecting on his legacy as a generous advocate of collaborative cohousing and intentional community: a man of incredible humanity with passion for feminism, activism, social justice and peace. It is fitting to continue learning from each other in his memory.

Editor's Note: We now have a UK Cohousing Trust to perform the functions outlined by Helen above, so we are on the right track in the UK! Dr Jarvis headed up a piece of collaborative research when she was a board member of UK Cohousing Network, available here.