A new buzz around cohousing in the capital
In cool semi-industrial space Newspeak House in London's Shoreditch, organisers Cohousing London (CHL) hosted an event to bring together people interested in alternative, communal ways of living. Despite little publicity, the event quickly sold out. With a vegan feast and home-brewed Kombucha tea put on by CHL members, the event could have scarcely been more on-trend.
The new buzz surrounding community-led housing in the capital is partly as a reaction to the housing crisis, and partly through the entrepreneurial spirit of its new converts. Policy changes and new funding may have catalysed groups waiting for their moment. Efforts of existing groups like the Rural Urban Synthesis Society (known as "RUSS", based in Lewisham) to cascade their knowledge and sow seeds cannot be ignored either. Three CHL members met at a RUSS training course.
What is the Embassy Network?
Zarinah Agnew is part of the Embassy Network, a "A network of place-based communities experimenting with new forms of governance and solidarity." She is originally a Londoner, with coloured hair and a quirky dress style ("I look weird" she cheerfully mentioned in her talk, when discussing approaching banks for funding). The project she lives in is Haight St Commons, DIY Communal Housing in San Francisco.

San Francisco is a particularly fertile ground for shared living, with 25 communes city (that they are aware of – more are discovered all the time, Agnew says). Agnew describes this as "Partially overlapping, fractal, nested, local and global network of spaces experimenting with home, culture and commons."
Agnew characterises her project as Co-living. In her building there are as many as 30 people. The building is a grand old former shop and hotel. She cooks one night a month, she smiles, and turns up and eats 29 days a month. To help finance the project they run small bed and breakfast operation.
They operate outward-looking discussions, and lecture nights regularly. They have become a much-appreciated hub in the area.


A lecture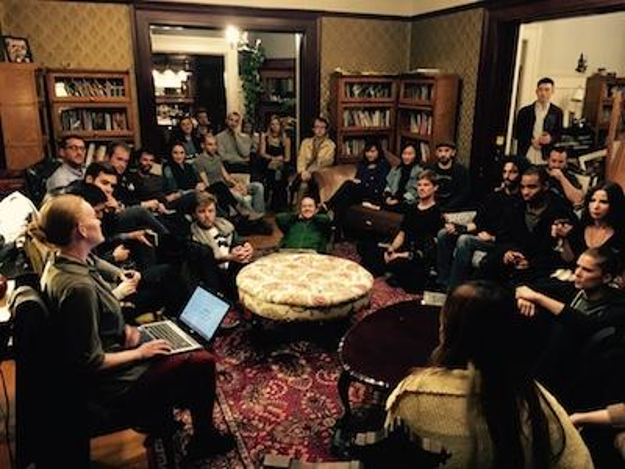 A support circle
Experimental models of cohousing governance
Agnew has some lofty aims for the project. Aka. "prefigurative politics" – building the world you want. Her goals were 1) To pilot a range of different governance structures for our home and for other communities in general; 2) To learn something about the process of social experimentation and 3) To push our own boundaries to learn something new about governance.
At the event I met with political scientist Eric Rogers, to ask for slides visualise some of their experiments. I share some clips below, with explanatory notes and reactions.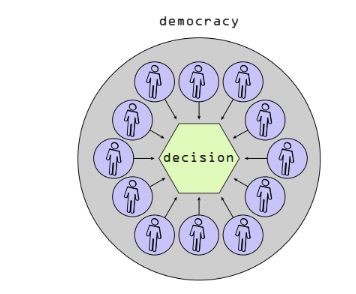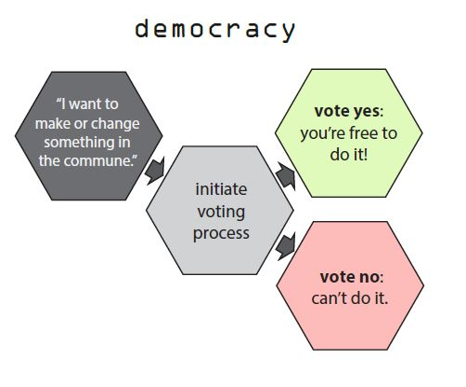 So far so simple – no prizes here.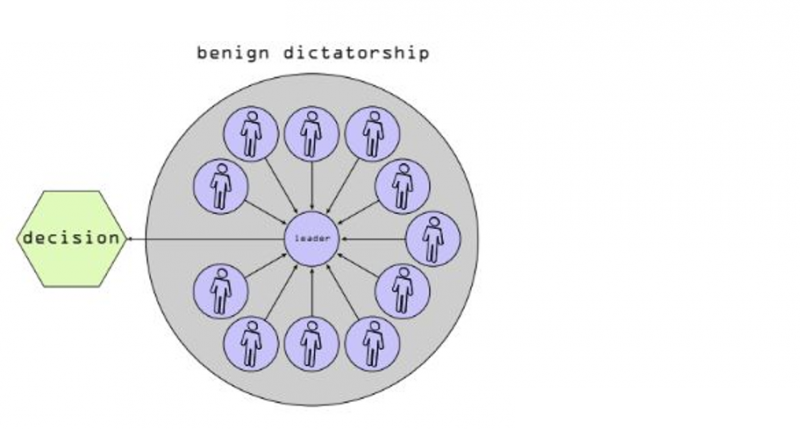 This raised a laugh from the room – surely not! Any parent will have seen themselves as a benign dictator at one point or another – but with other adults? The key point I took from this is there was a genuine desire by some members to give up their responsibility. Consensus is expensive in time and effort. Agnew reluctantly accepted for a month, and to see how it went.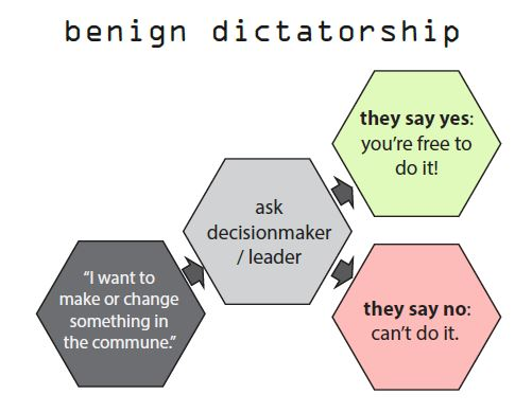 The Red Victorian has a "stewarded do-ocracy," meaning that it operates with a blend of high-initiative "do-ocratic" procedures for reversible and low-stakes decisions and changes, a division of cognitive labor for managerial oversight into specific domains of expertise and institutional knowledge, and democratic oversight over high-impact decisions and changes.
Decision making in a "Stewarded Do-ocracy" isn't as difficult as it sounds. I did wonder if this was another name for anarchy – "do what you feel" – but far from it. A handy guide can be found on their website.
Two not mentioned so far are 1) a "Wiki-ocracy", where everyone posts on a wall and two people nominated to look at and review, and 2) a "social reinforcement program" where residents earned money from the surplus for doing chores (a requirement to share on a "gloating" page was a fun touch).
Takeaways and reflections
1. The spirit of experimentation was exciting. And Angew reported that people engaged with the experiments, whilst house meetings people rebelled against; people stopped coming. If we remember that we can always change back later, maybe we can loosen up and experiment.
2. Being transparent about how your community decides things helps everyone. There is something curiously English about cheerfully soldiering on without decision making processes – an alchemy of misplaced patience and fear of confrontation. But unresolved decisions are expensive.
3. Develop your group's language. The Sapir Whorf hypothesis suggests the language we use shapes how we think. Agnew's linguistic progressivism posed a constructive challenge: does our current choice of words limit our ability to imagine our desired future?
Agnew generously shared these:
Resources, docs and links*
Slides from the talk
The Embassy Network page
Haight St Commons website
Communes Research Commune
The Anthology of house guidebooks by the CRC
Haight St Commons guide to setting up a commune
Fellowship for Intentional Communities (Agnew didn't mention this group but they have a bunch of great resources, everything from legal models to conflict resolution)
Agnew's blog
By David Stoker
Cohousing London working group member & lover of diagrams