It's been a while since I last wrote, but October has had some real highlights that I felt I should share with you.
California Dreaming
Stephen Hill was very generous in sharing his bursary so I could have the opportunity of attending the Grounded Solutions conference in Oakland, California. Little did we know that he was to be awarded the prestigious John Davis Award for Scholarship, which recognises people who have contributed significantly to the Community Land Trust movement through research, teaching and mentorship.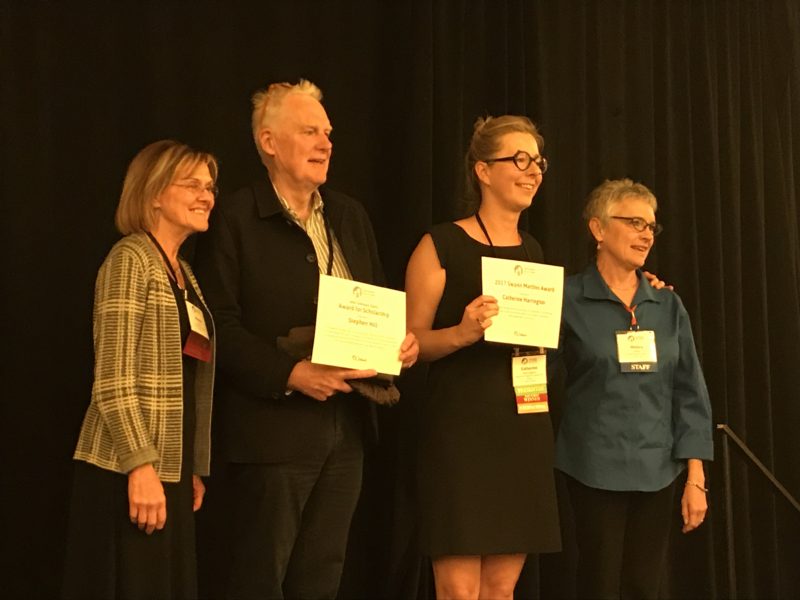 I was pleasantly surprised to find quite a few cohousing people at the conference too, including Betsy Morris from Berkeley Cohousing, who invited me over to visit. The cohousing folk were also making the connections that we have been doing here in the UK that we have a lot of common ground and can be a stronger voice if we work on these areas together whilst also celebrating our differences.
At the conference we heard the inspirational Dr Tiffany Manuel talk about 'Reframing the narrative' – how to effectively make the case for polices and investment for the needs of communities using the best information on messaging and data. The next day there were five wonderful women on the stage each from different Counties who were elected representatives who had pushed for their electorate to vote to increase their taxes for community housing and had won. There were examples of the most innovative community housing solutions across the globe, and a moving tribute to those who had lost their lives and homes in the recent hurricane in Puerto Rico. Caño Martín Peña, is a community land trust in San Juan that has given residents new rights and security of tenure and made significant environmental improvements in the area, recognised by the award of BSHF's World Habitat Award in 2015. Many houses there have been partly or completely destroyed. Residents are already working with volunteers, architects and engineers to rebuild the neighbourhood, in as fair and sustainable a way as possible. Champlain Housing Trust has launched a fundraising campaign, which will ensure that 100% of donations go directly to CMP residents. You can make a donation here https://www.gofundme.com/cano-martin-pena-relief-fund.
On the final day of the conference I met with the Co-op Housing Federation of British Columbia who have formed a community land trust in Vancouver to hold assets from the collective of existing co-operatives to enable the financing of new community led projects. I'm hoping that we can link up with them to explore this further via the International Cooperative Alliance. In the afternoon, I had the opportunity to visit some of the amazing San Francisco CLT projects, a resident led co-operative who collectively organised to prevent their apartments from being sold off to developers and a shared house for men with AIDS supported by a wonderful ex Bristolian estate manager.
With the help of air miles my husband Colin was also able to join me on this trip. He was particularly keen to visit N-Streets with its retro-fit approach to cohousing by taking down the fences, as it is similar to how we live in Bath. We took an enormous Amtrack train to Davis California to visit Kevin Wolf, who surrounded by a gang of youngsters, much like the pied piper showed us around their cohousing community and shared garden. The kids picked us tomatoes and even a persimmon fresh off the tree on our tour, with us sharing pictures of our community and common garden to show how at home we felt there. Kevin was animated in sharing how they collectively make decisions and how the community is growing organically, home by home and now extends across the street too!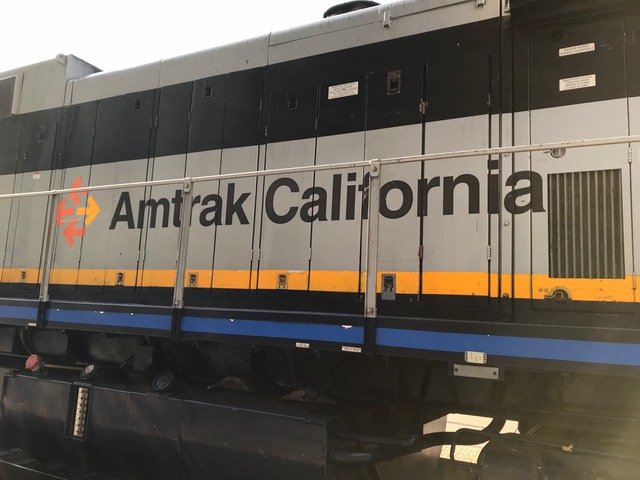 On the Saturday we caught the BART to visit Betsy and Raine at Berkeley Cohousing. I spent a good couple of hours chatting with Betsy about our similar experiences of the joy and struggles of cohousing, around the kitchen table and unloading the common house dishwasher! Their warmth and hospitality exuded as we agreed to keep in contact on our common journey.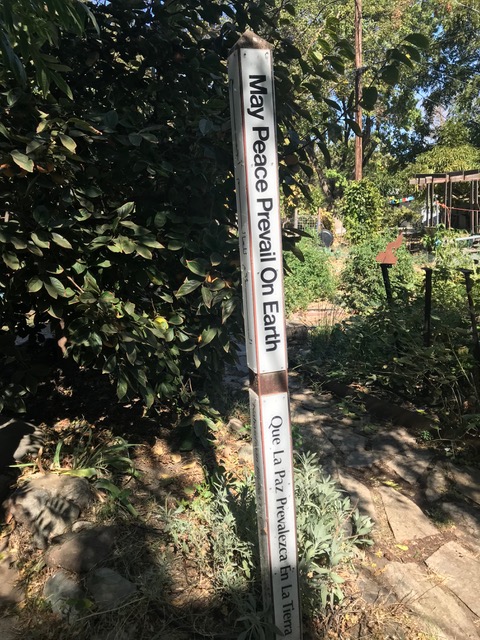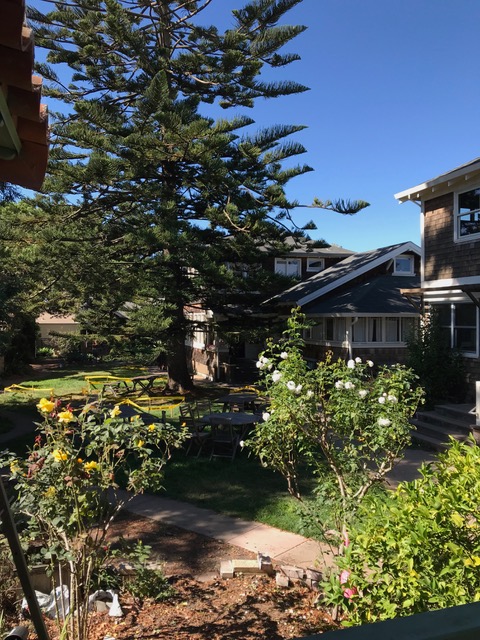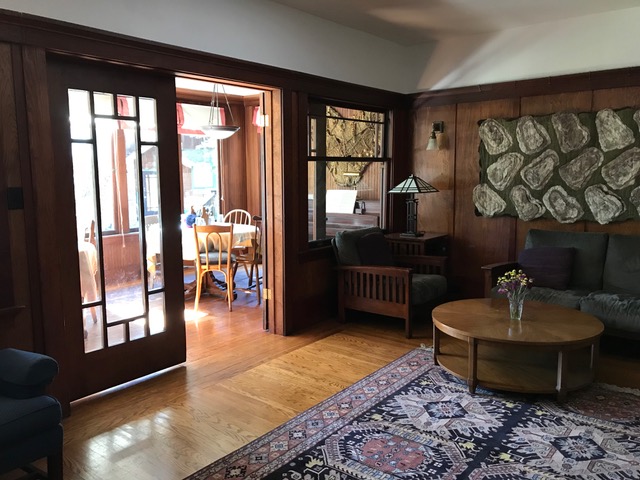 Generosity and kindness – OWCH hosts a Cohousing Learning Exchange Day
At the end of October, Maria Brenton, our Senior Cohousing Ambassador, invited me to join in the Cohousing Learning Exchange day that she and the women from OWCH had organised, and what a brilliant day it was!
The common room was literally buzzing with cohousing chatter! Maria's excellent skills at bringing a group to order and facilitating controlled yet inclusive discussion came to the fore. The learning ex-changed worked in true cohousing style of generosity, with groups at various stages of their devel-opment sharing their experiences with other groups.
I made lots of notes from the day – I'm still learning too. I will be writing these up to share with you soon, and I hope to use them as a basis for applying for funding for some action research that is a deep dive into the routes to cohousing that groups take, so that this detail can be shared with others to use and evolve to fit their own circumstances.
The wonderful OWCH women provided us with kindness, hospitality and sustenance of soup, fresh bread, sandwiches and fruit. This was my second visit to New Ground and everyone is so lovely kind and generous, that it motivates me to keep going on this journey to make it easier and support those that want to live in cohousing to do so, whatever their means and whatever the route of delivery, with the added benefit of meeting wonderful people along the way!