Established in 2007, Trelay Cohousing Community is a rural retrofit cohousing scheme at Trelay Farm, a 32-acre agricultural holding two miles from the sea, about 8 miles south of Bude in North Cornwall. 28 people of a range of ages, including 9 children live in 12 homes at Trelay, although with alterations, the number of homes can be flexible to meet the needs of the community.
Various friends and friends of friends came together in 2006 with a view to establishing an eco-community, with a meeting held in early 2006 attracting 23 people. South West England Sustainable Enterprise Society was set up as a society in mid 2006 with a £50 membership fee and it enrolled about 40 or 50 members by the end of 2006. Having developed a consensus method of working and a vision for the society, the members investigated some 40 properties identified through local estate agents during 2006 and put bids in on three properties. The third, Trelay Farm, was bought for £1.8m with existing capital raised through some of the 11 founder members selling their existing homes and through an £880K mortgage from Triodos Bank. The founder members moved in in April 2007.
An ideal small hamlet for a rural cohousing community, Trelay has a range of private living spaces, as well as several communal buildings, fertile fields, attractive woods, a sea-view, a main farmhouse, several barns, and a variety of cottages with full residential planning permission. Trelay Farm is owned co-operatively by SWESE (Trelay), and residents are required to be members and buy equity certificates on a mutual home ownership basis, either through using their existing personal resources or by making a commitment to a proportion of the mortgage, which entitles them to live, by virtue of a licence, in a particular living space at Trelay Farm. If a resident wishes to leave, they need to find a person (who must be accepted by the Trelay community as a member) to pay for the equity certificate on their property (the exiting resident receiving what the incoming resident is prepared to pay), and/or take over the commitment for their part of the mortgage.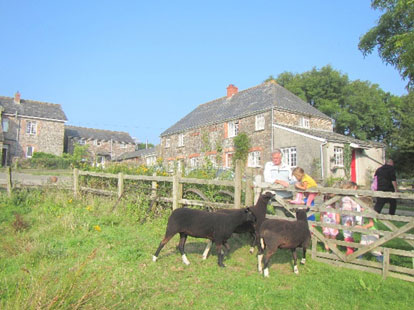 Trelay Cohousing Community is an intentional community where its members care and share for each other, diversity is welcomed, and where every member is treated equally regardless of their financial contribution or skills level. Members meet regularly and often in the farmhouse kitchen and dining room for communal meals and to undertake project work. Trelay has developed a washing machine room, a tool store, log shed, games room, workshop, storage and craft units with a small farm shop being set up. Trelay also operates as a farm, operated by Trelay members, producing their own food and a range of farm and other products, it provides holiday accommodation and is also developing itself as a learning centre, running training courses, conferences and events linked to the cohousing experience.
Trelay also seeks to operate environmentally, having installed a large PV system, a ground source heat pump and a pellet boiler scheme, and a solar hot water system, and ongoing work to improve insulation on the older properties. Trelay operates a car share system and has plans to install an interseasonal heat store in a greenhouse, a reed-bed system, a private water system, and possibly a small wind-powered system.
Such a warm glow of love all around. We have crises and calamities, but there is an underlying sense of goodwill: we sort things out far more easily than you'd expect.
I love coming home from a trip and being warmly greeted by everyone I bump into, and being offered beans on toast for lunch, and eating it around the kitchen table with 7 people.
It makes my heart sing when everyone drops what they are doing to help another person.
It's never boring! There's never a dull moment!
I am so grateful for a lovely warm supper, usually cooked by someone else.
It's cheap having a baby – I don't have to buy anything! There's plenty of equipment and clothing from the older children.
I have so many lovely surrogate grandchildren.
We all have friends of different ages – I talk to people of all ages every day.
Trelay Cohousing Community members